New Patients at Generations Chiropractic
We look forward to welcoming you to Generations Chiropractic. Our new patient paperwork is available for you to complete and submit online, so there's nothing for you to print out or bring with you.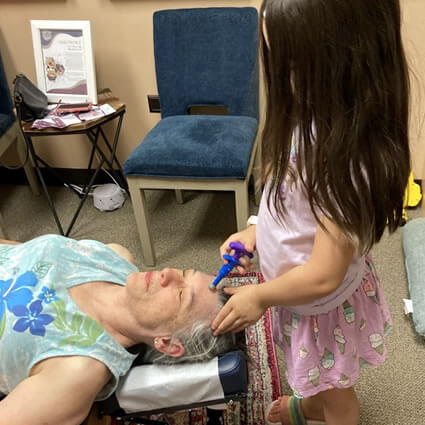 Your First Visit
At your first visit, you'll spend time chatting with Dr. Colleen about your health history and what's currently going on. She's interested in learning as much as she can so she can get to the bottom of things. Then she'll explain what she'll be looking for in your scans, as well as how your nervous system works and how stress can build up and affect nerve function.
Next, Dr. Colleen will do your scans. We utilize INSiGHT™ scanning technology to locate where your nervous system is impacted. There are three scans: a thermal scan, an electromyography (EMG) scan and a heart rate variability scan (HRV). These painless scans will give Dr. Colleen a good idea about what's going on with your nervous system.
This first visit will last about 45 minutes to an hour.
Your Second Visit
Ideally, your second visit will be the very next day. Dr. Colleen will have reviewed your scans to design a care plan for you, and she'll explain that to you. She'll show you on your scan printouts where the stress is located in your nervous system as well as where that started. She'll explain what she wants to work on first, and why. She'll detail the procedure for follow-up care and progress scans, as well as the financials. Then you'll receive your first adjustment. This visit takes approximately 30 minutes.
Tailored Care
Dr. Colleen offers a variety of adjusting techniques, so she can tailor care to your specific needs and preferences. Of course, for kids and pregnant moms, we use very gentle, low-force techniques.
Getting Started with Care
We make it as convenient as possible for you to get the care you need. We offer care plans as well as a VIP coupon for new patients. We also accept Health Savings Accounts (HSAs) and all major credit cards. Contact us today to book an appointment.
CONTACT US
---
New Patients at Generations Chiropractic | (630) 430-7296