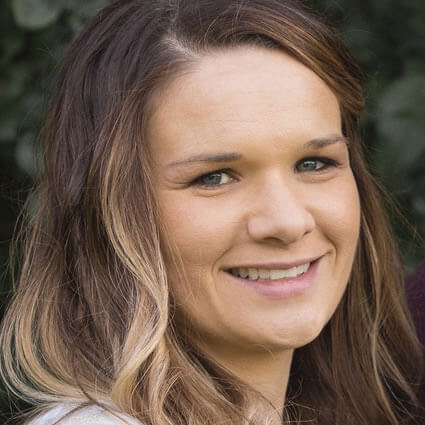 Meet Dr. Colleen Horn
Helping the Light Burn Brighter
Dr. Colleen received her Doctor of Chiropractic from Palmer Chiropractic College in Davenport, IA in 2012. While working on her pediatric certification through the International Chiropractic Pediatric Association, she went on a clinic abroad trip to Manaus, Brazil.
One of the most memorable moments from that trip was when she gave an 8-month-old his first adjustment. "The only thing I knew about little Leo was that he had a G-tube, or a feeding tube in his belly, and he was developmentally delayed. When Leo got his adjustment and his nervous system functioning, he gave me the biggest smile and it melted my heart. Being able to see his and so many others' lights burn brighter confirmed everything I had been working so hard to attain."
Focusing on Family
After chiropractic school, Dr. Colleen met her husband, Greg, and started the journey to have a family. Throughout her pregnancy, Dr. Colleen experienced first-hand the lack of support for women endeavoring to create healthy families through a holistic approach. She's determined to give new families the information they need to do just that—every woman deserves the opportunity to have the pregnancy and birth process she wants, without judgement.
Dr. Colleen witnessed many of her friends suffer both emotionally and financially with infertility, and experienced her own difficulty when she had a miscarriage between the births of her two children. Conceiving a baby naturally and easily was very important to Dr. Colleen.
This experience led her to learn about the Schaefer Protocol for herself and her husband. Dr. Colleen's primary focus was making sure her and her husband's bodies were as healthy as possible. All of that hard work paid off with the unmedicated birth of their son Grayson.
Certifications
Dr. Colleen has the following advanced certifications in pregnancy and pediatrics, to provide your family with the best care possible:
Schaefer Protocol Master Ranking
ICPA Pregnancy and Pediatrics certifications
Certificate of Proficiency in Pediatric and Family Chiropractic Care
Webster technique certification
Pediatric Experience (PX) practitioner
Learn More Today
Contact us today to learn more about chiropractic care for your family.
---
Dr. Colleen Horn | (630) 430-7296